Discover our joyful universe!
From colorful prints that give #girlpower to small details that make all the difference, through pretty materials , silhouettes inspired by ultra-desirable sixties and seventies references , such as the gingham print, the trapeze dress, the serpentine or even the comeback of the pointed collar :)
Huguette is also small series and unique pieces made in France to be able to follow the production closely and limit the kilometers on the meter of our clothes, just like our choice to source our raw materials in France .
Far from the diktats of fast-fashion, Huguette makes it a point of honor to offer fabrics with unique prints and a wide choice of materials. These fabrics come mainly from surplus stock from designer houses, vintage fabrics from the trunks of Huguette my grandmother; but also labeled fabrics (#GOTS, Peta approved vegan, etc.). Most of the fabrics are made in Europe.
The concept is simple: you choose the model, the size and the fabric, and we launch the production of your favorite piece that will have been made just for you :)". Not bad is not it ?
Pre-order, why?
And if we go back to the time of our grandmothers, when "fashion" rhymed with "order book"? We launch the parts in pre-order because it allows us to adjust the quantities as well as possible and not to overproduce. The expectation it generates is also a way of reviewing our relationship with clothing and our way of consuming.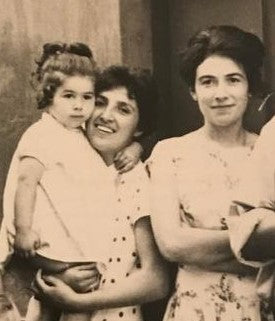 Just so you know...
"Huguette is a project carried out with my mother, an art bookbinding expert. We start from models that she and my grandmother, a former seamstress, were able to make in the 60s and 80s and we bring them up to date! The goal is to break the seasons by offering a dozen permanent models, and adapting the fabrics to the seasons.
We want this brand to be ethical . That's why we give you the opportunity to consume better.

Huguette is the beautiful brunette on the right and the little girl is my mother :)
Our history